Offering Shelter to Homeless Men - and So Much More
Posted on 09/04/2017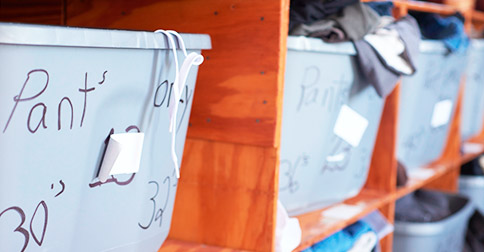 Firehouse Ministries is best known for our shelter that serves more homeless men than any agency in Alabama. However, Firehouse Shelter does so much more than that! Running a shelter in Birmingham has placed us in the position to serve in unique ways. Read on to find out a few examples of what they are!
Clothing Closet
Our clothing closet is open every Monday and Wednesday from 1-3 pm. Every month, The Firehouse hands out over 1,000 articles of clothing to those in need. From a fresh change of clothing to warm winter coats, the closet serves homeless and very low income individuals. Gentlemen looking for dress suits and shoes for job interviews, court dates, or church attendance can find what they need in the closet's selection. Recently, we had a group of young men needing clothing for job interviews, and they were able to find items that looked dignified and professional.
Case Management
The Firehouse wants to help eradicate homelessness in Birmingham for good- in order to do so, we know we need to treat each man as an individual, and help them to identify the cause or causes of their homelessness. Additionally, and perhaps most importantly, case management helps the guest deal with emergency situations that may need attention right away. The Firehouse has case managers on staff every day of the week that are available to anyone who is staying in our shelter or utilizing our services. Our case managers are trained to facilitate the unique needs of the chronically homeless. All of our services are voluntary, meaning each man feels empowered to change his own life. The emergency shelter is just a springboard to getting back on track to healthy successful life, and case management is critical and essential to this process!
Laundry, Storage, and Mailing
The Firehouse is proud to help each man break down the little barriers that make recovery so very difficult. Everyday, for 16 hours a day, our laundry room is humming with the sound of clean clothing being washed by volunteers. We provide fresh sheets every night so everyone can have a clean place to lay their head. We also offer a laundry drop off service, where the street homeless can bring their clothes to be washed. Additionally, we offer a mailing address and anonymous phone number that men can use when they are job hunting… you can't get a job without these two items, and being identified as homeless can hurt the chances of being hired! We also have a large storage space in our basement so they can keep their worldly belongings safe and secure. This allows them to participate in society without having to carry all of their possessions on their backs.
Meals Program
Each day, Firehouse Shelter serves three to four hot meals to the homeless Birmingham community through our meals program. Last year, we served over 122,000 meals to homeless men, women, and children! Lunch is open to the entire homeless community, and we average 90-125 lunches served per day. To widen our reach, we use any extra donations to make food boxes that are delivered to the elderly living in housing projects. We are able to keep our pantry stocked through partnerships and donations from area food banks, churches, businesses, and individuals. Firehouse also keeps pet food on hand for any four-legged friends in need.
The Firehouse Shelter is designed to feed and shelter homeless men in Birmingham, but when presented with the opportunity to serve in other ways, we take action. A few months ago, there was a family that consisted of six children, their mother, and their grandmother. Fleeing a domestic violence situation, they ran out of gas in Birmingham. Although it was around 9 pm, our Street Outreach (which has sadly been discontinued due to lack of funding) found them an empty apartment and set them up with food, toys, and other necessities. The next morning, with gas money, they were able to continue to their safe house. Learn more about how Firehouse Ministries is serving the Birmingham community, and find out ways you can get involved!